How to Properly Use a Fire Extinguisher
Are you prepared? In the event of an emergency, every second counts. More often than not, fire extinguishers are purchased and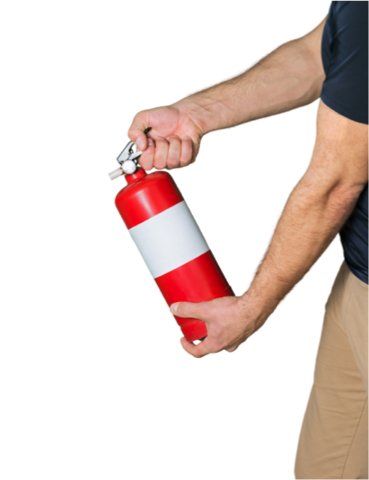 immediately stored away, never to be seen again until the event of a fire. It is vital to take a few minutes to become proficient in the use of your fire extinguisher beforehand. The last thing you want is to be forced to learn on the spot and risk the level of damage becoming more severe. When it comes to your home and family, there is no room for error. So, if you do not know how to properly use a fire extinguisher, this article is for you!
Maintaining Your Fire Extinguisher
It is important to become familiar with your fire extinguisher. Be sure to read the operating instructions and warning label located on your fire extinguisher. While all fire extinguishers share a common goal, not all look alike. Another great way to prepare yourself is to examine your fire extinguisher for possible malfunctions. Inspect the hose, nozzle, and seals for possible cracks or rips. If you find any malfunctions, have it serviced or replaced immediately. Check the pressure gauge located on your fire extinguisher. The average lifespan of a fire extinguisher is between 5 to 15 years. To ensure it is still working properly, be sure the gauge indicates proper pressure. If it does not indicate proper pressure, have it replaced immediately. Finally, make sure your fire extinguisher is stored in a proper location, to ensure accessibility in the event of emergency.
Types of Fire Extinguishers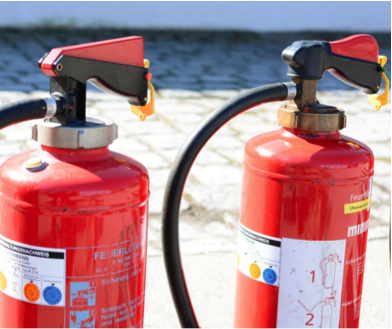 Not all fires are the same. The type of fire will dictate the type of fire extinguisher needed to get the job done. Before purchasing a fire extinguisher, be sure to evaluate the environment it will be placed in and identify any possible hazards. For example, an ABC fire extinguisher is suitable for your home and most public places. It is capable of extinguishing material, liquid, electric and even small grease fires. While class K fire extinguishers are recommended for commercial kitchens and other large-scale work environments.
Class A Fires: consist of combustible materials such as wood, paper, fabric, rubber, and plastic.
Class B Fires: are caused by flammable liquids such as gasoline, petroleum greases, tar, oils, solvents, and alcohol. Class B fires also include certain gases such as propane and butane.
Class C Fires: involves electrical equipment such as computers, motors, transformers, and appliances.
Class D Fires: consist of combustible metals such as magnesium, titanium, zirconium, sodium, lithium, and potassium.
Class K Fires: involves cooking oils and greases. It is important to never use water on a grease fire as it will cause the flames to explode and spread.
Using a Fire Extinguisher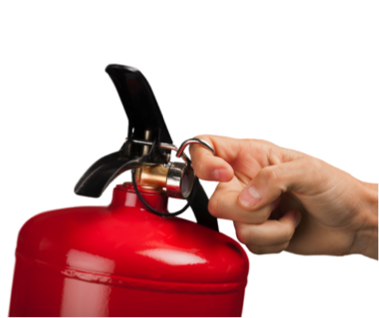 To operate a fire extinguisher properly, use the acronym "PASS".
PULL: Pull the pin located at the top of the device, it is usually attached to a plastic or metal ring. The pin is there to prevent accidental discharge.
AIM: Aim the nozzle toward the base of the fire, this is where the fire is fueled.
SQUEEZE: Squeeze the lever above the handle slowly to release the extinguishing agent. Releasing the lever will stop the discharge.
SWEEP: Sweep the nozzle left to right until the fire is out. Be sure to keep aiming at the base of the fire while moving side to side. Most fire extinguishers will give you 10-20 seconds of discharge time.
The best way to prepare for a fire is to have monitored smoke detectors. Traditional smoke alarms, carbon monoxide detectors, and heat sensors will activate when needed, but if no one is around, they will not help prevent disasters. Fleenor Security's monitored systems are connected to our local central station. This means that first responders are alerted quickly to emergencies and can be on the scene even when you are not. Monitored systems are also important if the occupant is unable to effectively respond to a traditional smoke alarm. The effects of smoke inhalation can quickly take place and cause an occupant to fall into a deep, which makes it more difficult to hear the siren of a traditional smoke alarm.