How To Build an Emergency Kit
Do you have an emergency kit prepared? An emergency kit is a bundle of items your household may need in the event of an emergency. It is important to remember that disasters don't wait, so it is vital to have an emergency kit prepared and stored in an easy-to-grab location.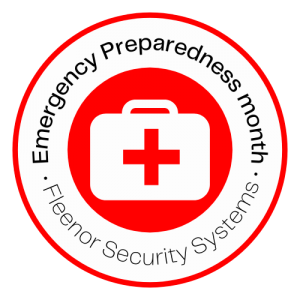 Basic Emergency Supply Kit
A basic emergency supply kit serves as an easily accessible bag full of only the necessary items for the event of an emergency or natural disaster. All items within your emergency kit should be stored in airtight bags or containers within one or two easy-to-grab backpacks, duffel bags, or plastic bins.
A basic disaster supply kit should include the following items:
Water: One gallon per person, per day, to be used for hydration and sanitation. There should be a 3-day supply for an evacuation and a 2-week supply for home.
Food: Non-perishable, easy-to-prepare items such as canned foods, energy bars, or dried foods. There should be a 3-day supply for an evacuation and a 2-week supply for home.
Flashlight and NOAA weather radio if possible (battery-powered or hand-cranked).
First Aid Kit
Extra Batteries
Manual can opener for food items
Whistle to signal for help
Cell phone with chargers and backup battery.
Emergency blanket
Plastic sheets and duct tape to shelter in place.
Multi-tool
Local maps
Additional Emergency Supplies
Consider adding additional items to your emergency supply kit based on your families' personal needs:
Prescription medications
Non-prescription medications such as pain relievers and antacids.
Prescription glasses or contacts with contact solution.
Infant formula, bottles, diapers, wipes, and rash creams
Extra cash
Two-way radio
Extra set of car keys and house keys
Change of clothing that is appropriate to your location's climate.
Family and emergency contact information (consider including copies of medication lists, proof of address, birth certificates, passports, and insurance policies).
Feminine supplies and personal hygiene items.
Sleeping bag or warm blanket
Paper and pencil
Books, games, stuffed animals, or other activities for small children.
Have a pet? Be sure to create an emergency kit for them as well.
Collar and ID
Leash
Food, water, and bowl
Carrier
Copy of pet's vet records
Free Printable Checklist!
Free Printable Emergency Supply Checklist!
Is your family prepared? Download Fleenor Security's free printable emergency supply checklist below to make creating your pack even easier!
Maintaining Your Emergency Kit
After you assemble your disaster preparedness kit, be sure to perform maintenance so your kit is always ready in the event of an emergency:
Keep food items in a cool, dry place.
Check expiration dates and replace items as necessary.
Reevaluate your needs and update your kit as your family needs change.
Kit Storage Locations
Due to the unpredictability of an emergency, prepare a kit for your home, work, and car.
Home: Keep this kit in an easy-to-grab place in case you need to leave quickly. Ensure all family members know where the disaster kit is stored.
Work: Keep a small emergency kit at your place of work in case you need to shelter in place. Consider adding a 24-hour supply of food and water, a first aid kit, and a change of weather-appropriate clothing and shoes.
Car: Keep a set of emergency supplies in your car
This list of emergency supply items serves as a starting point. It is vital to know the risk of potential disasters in your area when considering what to include in your emergency supply kit. It is necessary to consider the individual needs of your family, including any dependents or household pets. Additionally, FEMA recommends preparing a least two emergency supply kits.