After discovering a need in the community for residential and commercial security in the early '70's, Fleenor Security has become one of the largest family owned security companies in Tennessee. Fleenor quickly diversified beyond just security and added a wide array of other products like fire alarms, door access, and video systems. Through hard work, innovation, and teamwork, the Fleenor name has become synonymous with quality and integrity in the four state region. Fleenor was founded to protect customers, property, resources, and make a lasting impact on the people they serve.
Fleenor Security Systems' story is a feel-good tale involving our founder and president, Norman Fleenor. He grew up on a cattle and chicken farm right up the road in Bristol, TN and is the oldest of three brothers. As a young child, Norman discovered he had a passion for electronics and flying, and as it turns out, not so much for chickens. He attended Emory and Henry College and soon became a commercial pilot and then went on to become vice president and corporate pilot of a large furniture manufacturer in Johnson City, TN. After 10 years in the furniture business and dabbling with security systems at night, he decided to leave the furniture business and purchased a franchise to sell amphibious seaplane aircraft. It turns out there was not much of a demand for seaplanes in Northeast Tennessee and the planes only made a very cool and expensive fishing boats. After the seaplane business never "took off", Norman decided he would devote his time and talents to his fledgling security business while not knowing what the future had in store.
At the time Norman decided to go full-time into the security business, he had installed several hundred security systems and was working out of the basement of his home in Johnson City, TN. He soon realized these customers needed a tremendous amount of support and service and he would need to find a way to provide them the kind of service and professionalism they expected. He was still working out of his basement when he hired and trained his first employees, which would help him install the systems. Norman wore all the hats, he sold, designed, serviced, and ordered parts for the company, and then at night did his bookkeeping and taxes. During the early 1970's Fleenor Security continued to grow and it was soon realized the company had outgrown his home and needed a much larger space to allow the company to continue to grow. Fleenor leased its first official space on Browns Mill Road in the late 70's and would remain there until 1990.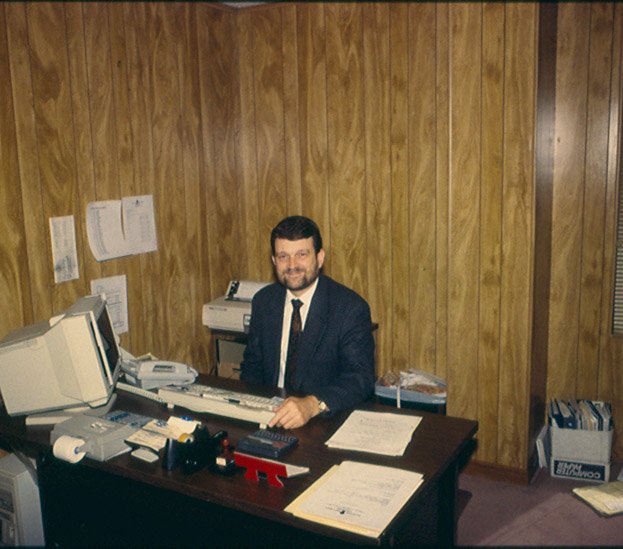 Fleenor has come a long way since the old days. Since 1990 Fleenor has occupied a 15,000 square foot building conveniently located on Morgan Court in Commerce Industrial Park in Johnson City, TN. This facility houses the corporate offices, monitoring station, and training facilities. In recent years, Fleenor has rapidly grown to 86 team members and has replaced most of its original infrastructure to prepare for continued future growth. The operations, accounting, and monitoring software has been upgraded to systems which support several of the top 10 largest providers in the nation and should provide us with the capabilities for expansion and ultimately a better customer experience. Will Fleenor, our current Vice President and 2nd generation leader, has overseen these changes and is now leading the company into its next chapter.