Have a Safe and Secure Holiday Season!
In addition to this year's holiday preparations, do not forget to add fire safety to your list, and be sure to check it twice! With the holidays approaching, Fleenor Security is urging people to look for and eliminate potential fire safety hazards caused by holiday lighting and decorations.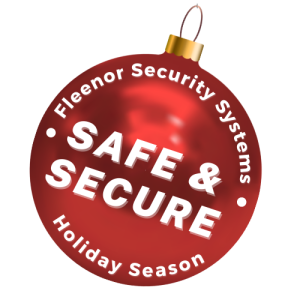 According to the National Fire Protection Association, holiday decorations are responsible for hundreds of residential fires per year that result in death, injury, and $11 million in direct property loss. Buddy the Elf said it best, don't be a "cotton-headed ninny muggings" follow these fire safety tips to keep your holiday season merry and bright!
Cook With Care
The U.S. Fire Administration states that forty-seven percent of home fires start while cooking. The holiday season can be a busy time, and it is easy to neglect proper caution while cooking. So, while preparing the perfect meal for your loved ones, be sure to remain in the kitchen and cook with care.

Picking the Perfect Tree
When purchasing a live tree, it is important to check the freshness. A fresh tree is green, and the needles are difficult to pull off. A great way to check the freshness of a tree is to bend the needles between your fingers. If they do not break, the tree is fresh! Once you have found the perfect tree, be sure to water it daily and place it away from any heat source. If you prefer an artificial tree, look for the label "fire-resistant". While this does not guarantee the tree will not catch fire, it means the tree will resist burning and extinguish quickly.
Holiday Lighting Galore
Holiday lighting may make the season merry and bright, but these beautiful decorations don't come without risks. Luckily, with proper preparation and safety tips, you can decorate with peace of mind.
When decorating your property, only use lights that have been tested and indicate the appropriate safety standards.
Check each set of lights for broken sockets, frayed wires, or loose connections. Throw away any damaged sets.
Be sure to use no more than three standard-size sets of lights per extension cord.
Never overload electrical outlets. Overloading your outlets with more wattage than they can hold increases the risks for power outages and home fires.
Keep all cords out of reach of children and pets and away from snow or water.
Be sure to turn off all lights before heading to bed each night.

While it is important to decorate with caution, the best way to ensure your family's safety is to be proactive with the security of your home. The professionals at Fleenor Security are here to provide a helping hand, call today for a free system evaluation.