5 Reasons to consider home video surveillance.
We believe your home is where you should feel the safest. Keeping an eye on your property can be a full-time job. Having a monitored home security system is a great way of protecting what matters most. If you are looking for a way to enhance your home security, the addition of a home surveillance system is an excellent start. There are many features and benefits of adding video surveillance to your property, and here we have highlighted a few of the most important ones.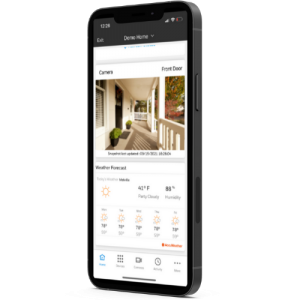 Crime Deterrent
Contrary to popular belief, most burglars are quite skilled and will spend time scouting a property to develop a plan. A burglar intends to break in with as little effort and risk as possible. One of the most effective ways to prevent a potential break-in is to have visible cameras placed around the home in addition to a sign indicating you have monitored security.
Checking in on The Family
You can't be everywhere at once, but a wireless video surveillance system allows you to check-in from your smartphone, tablet, or computer. Whether you want to see if your children have made it home from school safely via a motion-activated camera or check in on a sitter during your night out, a surveillance system can help bring you much-needed peace of mind.

Evidence for Apprehension
If a burglary occurs, your monitored home security system will ensure the correct authorities are notified quickly. The professionally installed video surveillance system will provide valuable evidence for the authorities. Whether it is a still-frame photo of the package thief or high-resolution video from an indoor camera, the authorities can use the evidence to apprehend the culprit, preventing future crime and increasing the odds of returning your stolen items.
Home Surveillance For Pets
Ever wonder what your pets do while you're away? A video surveillance system can help you see what you've been missing! Whether you're at work or away on vacation, you can check in on your fur family through your smartphone to stream video, store recordings, or even take snapshots.

Insurance Benefits
During the aftermath of a home burglary, you will have to file an insurance claim. Having high-definition footage of the event will help you validate your insurance claim. Not to mention you can receive up to 20% off your home insurance by having a monitored security system in place!
Keep an eye on what matters most. A video surveillance system installed by the professionals at Fleenor Security can help give you a much-needed extra set of eyes. Contact Fleenor Security today for a free system evaluation.